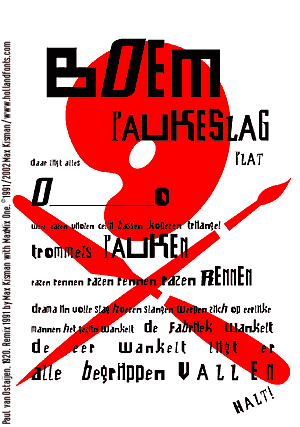 MaxMix One, Max Kisman. 1991.

MaxMix One is a compilation of characters from various fonts for the FontFont library and other custom alphabets, designed between 1985 and 1991.

'Boem Paukeslag' is a poem by Paul van Ostaijen from the bundle 'De Bezette Stad' (The Occupied City), Berlin 1920.

The remix of the poem using MaxMix One was originally published as a poster by TYP/Typografisch Papier in the Netherlands in 1991. Typefaces by Max Kisman, available at FontFont.com are: FF Scratch, FF Network, FF Cutout, FF Fudoni, FF Rosetta, FF Jacque and FF Vortex, published by FontShop International, Germany.


© Max Kisman. All rights reserved.